The Foundation Licence?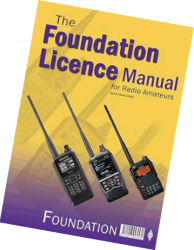 The Foundation Licence is an introductory licence to encourage new amateur radio operators to get a taste of the hobby, and to get on-air. As a Foundation licence holder, you'll have access at low power to a range of different frequencies, but you can gain more power and privileges as you progress to the Intermediate and Full licences.
Getting a Foundation Licence will allow you to transmit on the VHF / UHF and HF bands to a power of up to 10 watts, which with a modest aerial and radio will be enough to get you into much of Europe and beyond.
The Foundation Licence Now! book is an essential part of the UK Foundation Licence. It's a 32-page A4 book that explains all of the basics, contains handy bits of information for the newbie amateur, and tells you what you need to know to pass the exam.
How to get started in amateur radio
Here is a video explaining a little more about the hobby, and how to get started by getting a Foundation licence:
Foundation: Practical
All Foundation licence holders are required to demonstrate that they can connect and use an amateur radio transmitter and antenna. The practical assessments have to be completed in front of a Registered Assessor – Normally, a local amateur radio club can help with practical sessions.
The tutors hand-hold you through the process and assess you as the course progresses. The practical part of the course helps you to understand what to do when you get your licence, and how to get on-air safely. Practicals include:
Basic radio operation – Tuning in, changing frequency and transmitting
Connecting a radio, antenna and power supply
A short transmission on a VHF/UHF amateur band
A short transmission on an HF amateur band
Adjusting a dipole antenna
Sending and receiving a short phrase in Morse code (you don't need to learn Morse)
Foundation: Exam
After completing the practical part of the course, you're required to sit a 26-question multiple choice exam. The questions are in the following categories:
Amateur Radio and Licence Rules – 6 questions
Technical Basics – 4 questions
Transmitters & Receivers – 3 questions
Feeders and Antennas – 3 questions
Signal Propagation – 2 questions
EMC (avoidance of interference) – 3 questions
Operating Practices – 3 questions
Safety – 2 questions
You have 55 minutes to answer the 26 questions, and if you've paid attention during the course, and studied the book, then the exam should present no problems at all. To pass, you'll need to get 19 of the 26 questions correct.